Riley's Farm and Equestrian Center is a beautiful 30 acre horse boarding, training, lesson and riding farm, located in the Seacoast area of New Hampshire.  It is owned and operated by Linsay Rich, the farm was originally built in 1760. The farm features facilities and amenities for or both horse and owner, and is open 7AM - 10PM, seven days a week, for your convenience.
While offering your horse personalized and caring attention, our knowledgeable and experienced staff also strives to keep Riley's Farm a family-friendly community environment. We are active with the NHSPCA, running fostering, training, adoption and fundraising programs. We offer a Wounded Warrior Equine Therapy program to our returning veterans.
Riley's Farm and Equestrian Center offers much more than boarding services, for example; multi-discipline riding lessons, horse training, horse rehab care, a X-Country jump course, visiting clinicians covering many topics from Western Dressage to Nutrition. There are trail rides connected to the farm property and we are within a few miles of Pawtuckaway State Park and a short drive to Bearbrook State Park. Join us for a group trip to ride on our nearby beaches, stop in for one of the many shows we host, participate in our summer and winter family activities, or just come by to check out our facilities - we'd be delighted to arrange a tour and discuss a solution to your horse boarding needs.
Walk-ins are welcome — we'd be delighted to meet with you individually to discuss your horse's specific needs. Please feel free to contact us via our email or phone. Our owner and management live right on the property and are available 24/7 for emergencies and our boarders' questions or concerns.
We offer numerous options for boarding your horse, 12X12 stalls in our main barn with individual paddocks, run-in stalls with pasture turn-outs, 12x12 box stalls with turn-out paddock time per day and smaller stalls for ponies with turn-out paddock time.

Meet Linsay Rich - Owner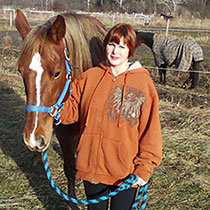 My grandfather and my uncle were both jockeys and subsequently trainers, racing at Epsom Downs in Surrey, England and that childhood, combined with many years of rescue volunteer work, a love of pleasure riding culminated in the fostering and adoption of Riley, my Missouri Trotter mix and the purchase of Spinnaker Hill Farm in Epping, NH.
Riley has some chronic health issues and a stubborn streak that only rivals my own! The progress that we have made is a testament to never giving up and led to my decision to provide an encompassing barn home to all riding disciplines and all riding level clients whatever interests and their horses requirements are. We are committed to providing clinics throughout the year covering varied topics.
Riley's Farm facility offers a large indoor arena, an indoor round pen, a large outdoor arena, a double-sized outdoor round pen, a x-country training course, turnout pastures and a variety of stall options to fit different horses needs and budgets.
The facility is open until 10pm daily to our boarders, lesson clients and visiting trainers and riders alike.
Riley has asked that we provide foster care and behavioral training with a focus on adoption and we will be hosting adoption and fund raising events for NHSPCA in addition to our clinics.
Meet Felice Vincelette - Trainer
Throughout her more than 40 years as trainer, instructor, clinician, breeder of Lipizzan horses and therapeutic educator, Felice has developed a unique program based on Old World French Classical training and integrated healing therapies and modalities. As a life long horse woman, Felice had dedicated her life to the study of the art and science of horsemanship. Felice is available for private lessons, therapy and re-education sessions. As each horse and rider are unique, Felice will assess and formulate a training program that is appropriate for the equine/ human partnership. Her work focuses on opening lines of communication, teaching the natural language of horses, thereby helping to develop language skills for each pair. Felice offers educational programs for all levels of horses, riders and different equestrian disciplines.
---

Click on More Options to get directions to Riley's Farm from your location.
---