Horse Leasing Options and Prices:
Quarter Lease-1 lesson and 1 free ride per week $200.00
Half Lease-1 lesson and 2 free rides per week $300.00
Full Lease-1 lesson and 5 free rides per week $500
All leased horses will be available for their riders for all shows attended.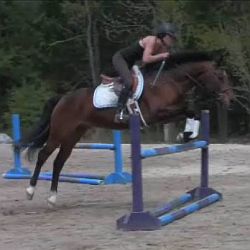 Bongo is a 7 year old 15.1 hand gelding with royal bloodlines (sired by a famous German Riding Pony "Hilkens Black Delight") He has tons of athletic ability and potential. He is correctly trained and very fun and easy to ride. He loves jumping and has free jumped up to 4'3" with ease. He is schooling dressage  movements from 2nd and 3rd level and is a perfect all around horse for an ambitious rider but he is also happy to go around with beginners in our lesson program. He loves attention and gallops in our x-country field. He is suitable for nearly any rider for pleasure riding or more intense training in dressage or jumping. He is available for half or full lease.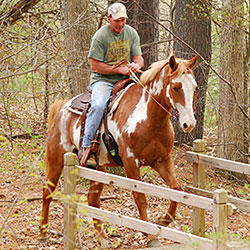 For On-Farm Lease - Ford: 12 year old sorrel overo gelding. "Ford" is a blast to ride and will excel in just about any direction! English or western. Has been extensively trail ridden alone and with others - he is happy to lead or follow. He'll work in the indoor or outdoor rings and looks at nothing. He will quietly pop over cross rails, and does seem to have some jumping "education" in there. He has even run a few barrels with his previous home. This horse wakes up the same every day. He loves to work and wants a job! Ford is very handy and does have a more forward way of going - he really enjoys a educated rider who will continue to challenge him and teach him. Ford bathes, ties, loads, and is easy to work around. He is UTD on all shots and has a recent coggins. He is a super easy keeper - barefoot and very minimal grain
Click here to view our Lease Agreement.
---

For Adoption - Zena is a 16 year old Solid-Bred Paint Mare currently in foster at Riley's Farm, and looking for her forever home! Zena is a love to be around and a very easy keeper. She is polite to handle and really enjoys a good grooming session. Zena is up to date on all her shots and her feet. She is looking for a home where she can relax, be a good companion, get lots of grooming, and maybe pony around the grand kids! If you're interested in Zena, be sure to fill out an application with the NHSPCA at http://www.nhspca.org/v/vspfiles/assets/images/horseapplication.pdf
---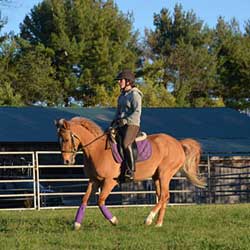 Indy - Flashy fifteen year old 13.2 hand Welsh cross gelding being offered for sale. He's been shown locally in lead line, short stirrup, walk/trot, walk/trot/canter, pleasure and junior hunters. Ties, loads, trailers well, stands for the farrier and Vet. He's extremely comfortable to ride, loves to work, and has a great temperament and personality. He has unlimited potential in jumping, dressage or three phase!  Knows movements through 3rd level. He's an eye catcher with his floating movement and exceptional extended trot. Indy's been used in lessons, summer camp and trail riding too.  UTD with farrier and dental. He is sound, goes barefoot, and is an easy keeper. He's a great all around pony. Please email for additional photos michellecooper32@comcast.net.  Call 603-944-1080 to set up an appointment. He's available at Rileys Farm Equestrian Facility. 
---